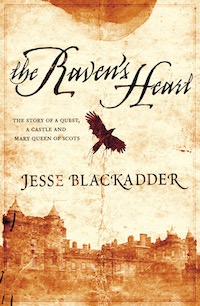 … Scotland, 1561, and a ship comes across the North Sea carrying home Mary, the young charismatic Queen of Scots, returning after 13 years in the French court to wrest back control of her throne. 
The Blackadder family has long awaited for the Queen's return to bring them justice. Alison Blackadder, disguised as a boy from childhood to protect her from the murderous clan that stole their lands, must learn to be a lady-in-waiting to the Queen, building a web of dependence and reward.

This sweeping, imaginative and original tale of political intrigue, misplaced loyalty, secret passion and implacable revenge is based on real characters and events from the reign of Mary Queen of Scots.
Jesse Blackadder finally got sick of people asking if she was related to Rowan Atkinson, and wrote "The Raven's Heart", inspired by the real Blackadder family in 16th century Scotland. It has won awards in Australia and the USA, including the Benjamin Franklin Award for Historical Fiction. 
Find out what readers said on Goodreads