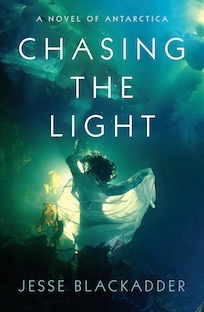 In the early 1930s Antarctic open-sea whaling was booming and a territorial race between Norwegian and British-Australian interests was in full swing. But Antarctica was closed to women, in spite of hundreds applying to expeditions (including those of Scott, Mawson and Shackleton).
Determined to learn more about the first women to reach Antarctica, Jesse travelled to Norway to research Ingrid Christensen, a 38-year-old mother who left her six children behind and travelled south on a whaling boat four times in the 1930s.
Based on Ingrid's story, Chasing the Light tells of a sea voyage by the whaling magnate Lars Christensen and three women: Lillemor Rachel, who tricked her way onto the ship and will stop at nothing to be the first woman to land on Antarctica; Mathilde Wegger, a grieving widow forced to join the trip, and Lars's wife Ingrid, who has longed to travel to Antarctica since she was a girl and has made a daunting bargain with Lars to follow her dream.
Find out what readers said on Goodreads